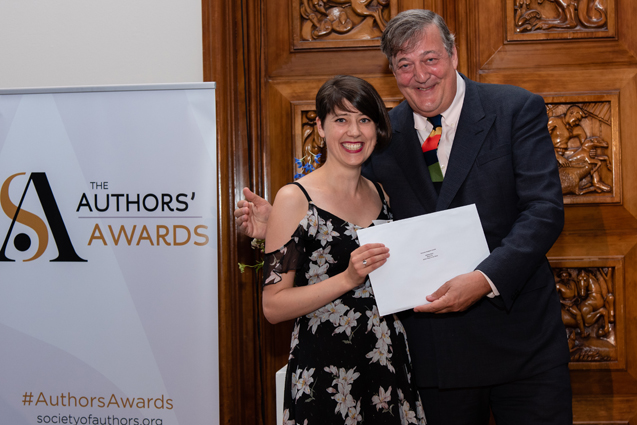 Miriam Nash wins a Somerset Maugham Award
Photograph: Adrian Pope

'Almost hypnotic in its sense of place. Tidal and glistening with stories.' - Jen Campbell, Judge, Somerset Maugham Award

'An absorbing, dreamlike example of how writers can cut through to the spirit of a place and show you the heart of the worlds they have visited.' - Barney Norris, Judge, Somerset Maugham Award
Miriam Nash's debut collection, All the Prayers in the House, has won a 2018 Somerset Maugham Award. Her book was chosen from a shortlist of five works of fiction, non-fiction and poetry by writers under 35. Each of the three winning writers received £5250. They were presented their awards by Stephen Fry.
This year's judges, Jen Campbell, Barney Norris and Ian Thomson described Miriam's poems as providing an "hypnotic sense of place".
First awarded in 1947, the Somerset Maugham Awards are amongst a number of literary prizes run by the Society of Authors and enable recipients to enrich their work by gaining experience of foreign countries. The Authors' Awards, presented by Stephen Fry, were presented at RIBA on the evening of Thursday 19 July 2018. This is the first year that titles have been shortlisted for the award - previously winners have just been announced.
Judge Jen Campbell talks about the five titles shortlisted for a Somerset Maugham Award here. She discusses Mriam Nash's book and reads a poem from it at 7.00 on the video.
Full details of all the award winners can be found here
Miriam Nash's debut was also been shortlisted for the Seamus Heaney Centre Prize for First Full Collection, along with fellow Bloodaxe poet Wayne Holloway-Smith's Alarum.
Miriam Nash's poem 'Sister Widdershins' from All the Prayers in the House is featured on The Island Review.

Carol Rumens Poem of the Week column in The Guardian of 3 July 2017 discusses Miriam's poem 'The Walking Father Blues' . 'An unusual form, the pantun, brings a subtle, nuanced swing to the depiction of a man who is able to walk out from one marriage and into another.'
[31 July 2018]