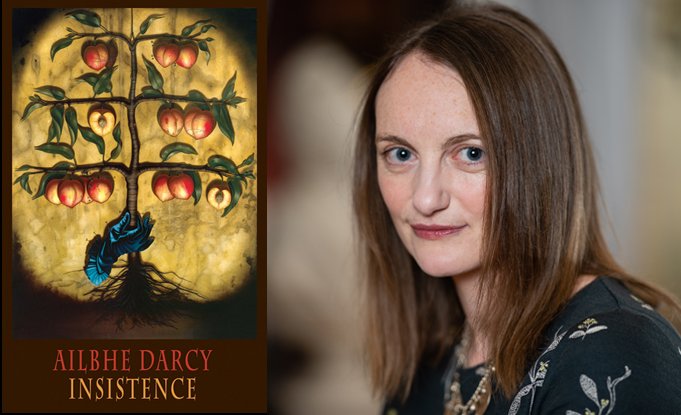 Ailbhe Darcy interviews, reviews & readings for Insistence
'Ailbhe Darcy's Insistence is a powerful voicing of life-on-the-edge. In this collection the trauma of early motherhood is twinned with economic decline, as she urgently interrogates ideas of domesticity, natural order and environmental responsibility. Her virtuosic adaptation of Inger Christensen's Alphabet is a monument to the precariousness of our times.' - Sinéad Morrissey, Chair of Judges, T S Eliot Prize 2018
Cardiff-based Irish poet Ailbhe Darcy's second collection Insistence was written in the American Rust Belt, in an era of climate change and upheaval. Insistence takes stock of the parent's responsibility to her child, the poet's responsibility to the reader, and the vulnerability of the person in the face of global crisis.
Insistence was published by Bloodaxe in May 2018, and was shortlisted for the T S Eliot Prize 2018 and the Irish Times Poetry Now Award 2019. It won Ireland's largest poetry award, the Pigott Poetry Prize in May 2019. In June it was announced as the winner of the Roland Mathias Poetry Award, the English language poetry category of the Wales Book of the Year Awards, and went on to be named the overall Wales Book of the Year Award 2019.
Highlights from the T S Eliot Prize Readings held at London's Royal Festival Hall on Sunday 13 January 2019 were broadcast in a special hour-long edition of Radio 3's The Verb on Monday 14 January 2019. Listen here. Ailbhe features at 12.40. She read the final section of section 11 of her long poem 'alphabet'.
The full T S Eliot Prize Readings are available here. Ailbhe Darcy read exclusively from her long poem 'alphabet'.
ONLINE INTERVIEW WITH AILBHE DARCY

Island's Edge, online November 2022

Ailbhe Darcy was interviewed for Island's Edge, an online archive of interviews with Irish poets. Ailbhe spoke to Ciarán O'Rourke about her poetry, about climate change, and about co-editing (with David Wheatley) the anthology A History of Irish Women's Poetry (Cambridge University Press, 2021).

'For me, one of the many strengths of your work is its combination of a free-flowing linguistic vitality with a remarkable openness to (pop) culture and other artistic modes: your poems enthusiastically partake of a (media-saturated) reality in-motion, rather than pretending to hold the same at a descriptive distance.' - Ciarán O'Rourke, Island's Edge
Read this in-depth interview here: https://www.islandsedgepoetry.net/poets-a-j/ailbhe-darcy/

AILBHE DARCY READS TWO POEMS FOR WALES ARTS REVIEW

Ailbhe Darcy read two poems from Insistence for Wales Arts Review's digithon crowdfunder in March 2020. She filmed herself reading from her home. She began by reading 'Silver' from her bathroom, followed by 'Service Not Included' from the sitting room.
AILBHE DARCY PRESENTS BBC RADIO 4 FEATURE ON INGER CHRISTENSEN
Alphabet, BBC Radio 4, Sunday 23 February 2020, 4.30pm
Ailbhe Darcy explores the long poem 'alphabet; by the Danish poet Inger Christensen on this Radio 4 feature. Written during the cold war, alphabet is an account of living an ordinary life under the threat of nuclear devastation. The destructive force hangin over the poem is the atomic bomb, but the theme of ecological crisis is resonant today, and is something that Ailbhe explored in her own sequence 'alphabet', a homage to Christensen from her prize-winning second collection Insistence.
Inger Christensen (1935-2009) published her book-length poem alphabet, translated by Susanna Nied, with Bloodaxe in 2000. Ailbhe Darcy's Insistence prompted renewed interest in alphabet, which has been reprinted.
Details here, but the programme is no longer available to listen to.
IRISH RADIO INTERVIEWS WITH AILBHE DARCY

The Poetry Programme, RTÉ Radio 1, Sunday 16 December 2018, 7.30pm

Cardiff-based Irish poet Ailbhe Darcy was in conversation with Olivia O'Leary for the whole of the 16 December edition of The Poetry Programme. She read four poems from her second collection Insistence and spoke about her response to being shortlisted for the prestigious T S Eliot Prize.
This edition of The Poetry Programme is no longer available online.
Arena, RTE Radio 1, Wednesday 20 June 2018, 7-8pm

Ailbhe Darcy was interviewed on Arena live down the line from Cork on 20 June. She was talking about and reading poems from her second collection Insistence. She was in Ireland to launch the book in Dublin and Cork.

Ailbhe read her poems 'Stink' and the first of her poems entitled 'After my son was born'. Sean Rocks also asked her about her long sequence 'ALPHABET' which ends the collection, a poem prompted by Inger Christensen's book-length poem alphabet, published in translation by Bloodaxe.

'Ailbhe Darcy chats about her latest collection of poetry "Insistence", written in the American rust belt it touches upon parental responsibility, the natural world and hope in the face of climate change.'

Click here to listen.

REVIEW COVERAGE

Insistence is reviewed in The Irish Times here.
An in-depth review is on the international online journal BODY here.
Joey Connolly reviewed Insistence in depth on the Poetry School's blog here.

Read Hayden Murphy's review in The Herald here.
'Darcy's Insistence insists on our attention, and negotiating our way through the poems with her is an intensely rewarding experience' - Catherine Ann Cullen, Dublin Review of Books
Click here to read the full review in Dublin Review of Books.
[22 February 2020]