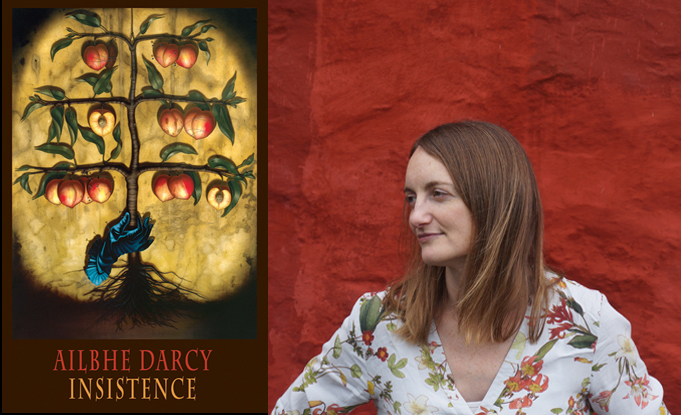 Ailbhe Darcy wins Pigott Poetry Prize
Ailbhe Darcy's second collection Insistence has won the €10,000 Pigott Poetry Prize. She was announced as the winner at the opening ceremony of the 49th Listowel Writers' Week on May 29th 2019. Two of the three collections shortlisted were published by Bloodaxe. The other, Leanne O'Sullivan's fourth collection, A Quarter of an Hour, won the inaugural Farmgate Café National Poetry Award 2019.
The Pigott Poetry Prize, now in its sixth year, is the largest for a poetry collection by an Irish poet. The prize for the winner has been increased from €8,000 to €10,000 and the other two finalists each receive €1,000. The inaugural winner of the Pigott Poetry Prize in association with Listowel Writers' Week was Matthew Sweeney for his tenth collection (and first published by Bloodaxe Books), Horse Music. The prize is sponsored by Mark Pigott, who said, 'It is a blessing to be able to support this wonderful literary award and recognise the leading poets of Ireland'.
Adjudicators Jo Shapcott and Ian McMillan drew up the shortlist from over 60 collections submitted for this year's award on behalf of Listowel Writers' Week. Ian McMillan commented:
'Adjudicating this competition has been an absolute joy; the craft, skill, ambition and magic in all of these books has underlined for me, as if needed underlining, that Irish poetry is in a very healthy state.'

Written in the American Rust Belt, in an era of climate change and upheaval, Ailbhe Darcy's second collection Insistence takes stock of the parent's responsibility to her child, the poet's responsibility to the reader, and the vulnerability of the person in the face of global crisis. Ailbhe is now based in Cardiff after a number of years in the USA.
In June 2019 Insistence won the Roland Mathias Poetry Award, the English language poetry category of the Wales Book of the Year Awards, and went on to be named the winner of the overall prize, Wales Book of the Year 2019. The collection was also shortlisted for the T S Eliot Prize 2018 and Irish Times Poetry Now Award 2019.
For links to interviews with Ailbhe Darcy on RTE Radio 1, see: https://www.bloodaxebooks.com/news?articleid=819
Ailbhe Darcy reads 'Nice'
In this excerpt from Ailbhe Darcy's reading (with Finuala Dowling) at Newcastle Centre for the Literary Arts on 11 October 2018, she reads her poem 'Nice'.
[30 May 2019]