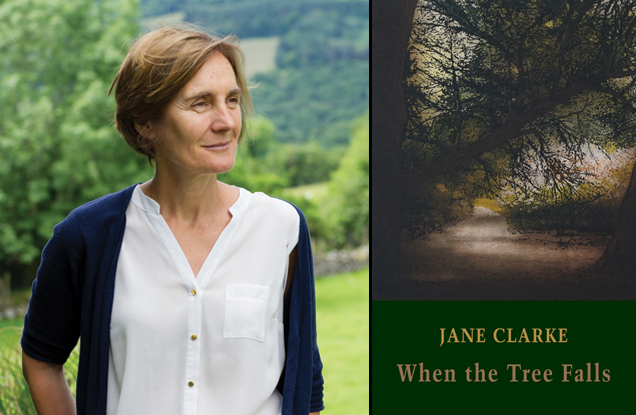 Jane Clarke interviews, books of the year & poem features
CountryWide, RTE Radio 1, Saturday 12 June 2021, 8.05-9am

Jane Clarke has recorded three poems for RTE Radio 1's farming and rural life programme CountryWide. The first of these, 'Camping at Bearna' from When the Tree Falls, was broadcast on 12 June. The poem was introduced by presenter Damien O'Reilly and ran as the final item in the programme. Listen here (from 40:10).

Jane Clarke's interview on CountryWide from 6 June 2020 is still available as a podcast. She took a walk with Ella McSweeney in the hills near her home in Glenmalure and spoke about what inspires her poetry. Listen here (from 28:13).
RTE ONE TV INTERVIEW WITH JANE CLARKE ON NATIONWIDE

Nationwide: Wicklow Mountains, RTE One TV, Friday 23 October 2020, 7pm

An interview with poet Jane Clarke opened RTE One's Nationwide on 23 October. This edition of the programme is devoted to things to see and do around the Wicklow Mountains, including the Miners' Way long distance path.Former miner Robbie Carter told his story of the explosion in the last working mine at Glendasan, and Jane Clarke read her poem that he inspired – 'Foxrock Mine'. They were both filmed on location at the disused mine.

'Foxrock Mine' was one of a sequence of new poems the Jane Clarke wrote especially for the BBC Radio 4 programme she presented in May 2020, The Miners' Way, in which she walked the 19km path and interviewed people connected with the mine along the way: former miner Robbie Carter, as well as local historian Carmel O'Toole and sheep farmer Pat Dunne - also interviewed on Nationwide.

Watch here. First item.
For more on Jane's sequence of poems about the disused mines of Co Wicklow, and the Radio 4 programme she presented, see: https://www.bloodaxebooks.com/news?articleid=1025
This piece also links to an extract the magazine's interview with Jane Clarke from their inaugural issue after her debut collection had been shortlisted for the RSL Ondaatje Prize.
[24 April 2020]