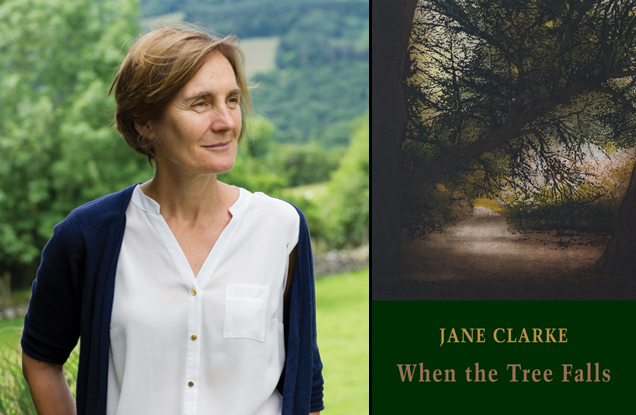 Jane Clarke interviews, books of the year & poem features
'The Irish poet Jane Clarke has followed a great debut collection with an even better second book. When the Tree Falls talks about her farming father in his last years. It delivers a clean, hard-earned simplicity and a lovely sense of line.' – Anne Enright, The Irish Times (Books of the Year 2019)
Irish poet Jane Clarke's second collection
When the Tree Falls
was published by Bloodaxe in September 2019. Her lyrically eloquent poems bear witness to the rhythms of birth and death, celebration and mourning, endurance and regrowth. An elegiac sequence, inspired by the loss of her father, moves gracefully through this second collection. Jane's debut collection
The River
was published by Bloodaxe in June 2015 to great acclaim.
When the Tree Falls
was one of Anne Enright's books of the year choices in
The Irish Times
. The collection was well reviewed by Martina Evans in the same paper
here
.
'When the Tree Falls confirms Jane Clarke's position as one of the most rewarding poets in these islands: she knows how to cut a line, how to shape words to the right instrument and then to make that thing sing.' – Tony Curtis, Poetry Wales (Poetry Books of the Year 2019)
'These poems are rich and earthy, natural and cultivated, and
When the Tree Falls
is a beautiful second collection, giving the reader not only a sense of loss, but also peace, and even joy, in the quiet memories that live on here.' - Aoife Lyall's thoughtful, in-depth review is
here
.
'Giving vent to her love for her departed father through a shared affiliation with the rustic landscape of her formative home in Roscommon,
When the Tree Falls
is a protracted and desperately moving song of loss... [a] wonderful, profoundly complete collection of poems.' - Steve Whitaker,
The Yorkshire Times
. Read the full in-depth review
here
.
REVIEW ON RTE RADIO 1'S ARENA - POETRY BOOKS OF 2019 FEATURE
'Jane Clarke is a really extraordinary poet. This is only her second collection, but this is a really timeless voice. She's a poet who blends the contemporary with a great sense of the ancient and the rural. Her first collection The River was a fantastic piece of work. This new collection When the Tree Falls is focussed very much around the death of her father, but it's an incredibly celebratory poetry collection that really looks at the nuts and bolts of the actual life on a farm in Roscommon...she finds such beauty in it, with such simplicity of language. There's no sentimentality, no ornamentation; every word is incredibly honed and carries a really deep emotional weight.' - Jessica Traynor, speaking on RTE Radio 1's Arena (Poetry books of 2019)
Click here
to listen to the full review and to hear Jessica give a beautiful reading of Jane Clarke's 'When winter comes'. 1st item. See below to read Carol Rumens' comments about this poem in her
Guardian
poem of the week feature.
ONLINE INTERVIEW WITH JANE CLARKE

An interview with Jane Clarke featured in the inaugural issue of
The Poet Magazine
, Autumn 2019. Click
here
to read. Jane comments on three of the poems from
When the Tree Falls
here
.
PODCAST INTERVIEWS WITH JANE CLARKE

While Jane was in Washington DC in October 2019, she was interviewed by Grace Cavalieri for The Library of Congress's
The Poet & the Poem
series. This half-hour interview is available
here
. Jane read and spoke about her poems 'When winter comes' (see below for a link to Carol Rumens' commentary on this poem), 'Hers', 'Polling Station', 'In Glasnevin', 'I've got you', 'Lullaby' and 'Kelly's Garden' from
When the Tree Falls
and the title poem from
The River.

Jane Clarke read and introduced her poem 'He stood at the top of the stairs' from
When the Tree Falls
on the
Words Lightly Spoken
podcast
here
.
PODCAST RECOMMENDATION FOR WHEN THE TREE FALLS

Slightly Foxed podcast episode 13, online 15 November 2019

Episode 13 of the Slightly Foxed podcast explores nature writing with Jay Armstrong, founder and editor of Elementum Journal, and author Juliet Blaxland.

Jay recommended Jane Clarke's second poetry collection When the Tree Falls at 34.34.

'This collection of poetry weaves around the death of her father… It's just so simple, but hugely poignant and very strong writing.' – Jay Armstrong, recommending When the Tree Falls on the Slightly Foxed podcast
Click here to listen.

POEM FEATURES

Jane's poem 'When winter comes' from
When the Tree Falls
was discussed by Carol Rumens in her
Guardian
Poem of the Week column
here
.
'The poems are plain-spoken and restrained: they resist easy consolation. Their austerity serves to intensify the unmediated emotion they almost don't want to capture...a poem might be born of personal loss, but, once completed and published, it has entered a different timespan, and becomes the forge where other minds are shaped and brightened.' – Carol Rumens, on When the Tree Falls, Poem of the Week, TheGuardian.com
The Irish Times
featured 'Camping at Bearna' as their Poem of the Week on 12 October 2019
here
.
Elementum Journal, Book of the Week, 28 October 2019
The glossy magazine
Elementum Journal
featured Jane Clarke's second collection
When the Tree Falls
as their Book of the Week for the week from 28 October. Their feature includes reviews for the collection, and links to an extract from their interview with Jane in their inaugural issue in 2015.

'It's a privilege to bring Jane's work to a wider audience and we're delighted to share this collection with you.'
This piece also links to an extract the magazine's interview with Jane Clarke from their inaugural issue after her debut collection had been shortlisted for the RSL Ondaatje Prize.
Click here
to read the interview extract. Our author photograph was taken by
Elementum
to accompany that feature.
Forthcoming readings & workshops with Jane Clarke
here
.
[14 October 2019]