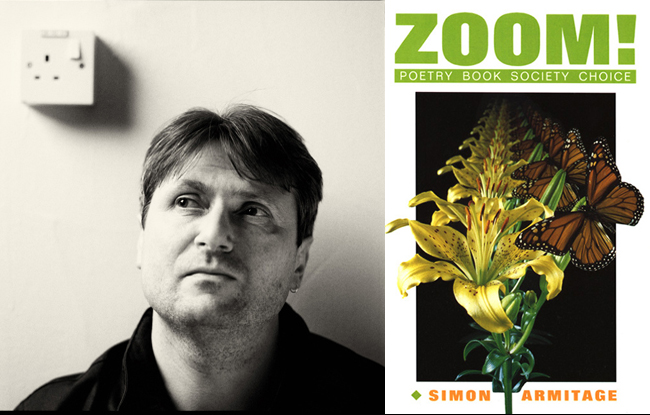 Simon Armitage appointed Poet Laureate
Thirty years after publishing his first collection, Zoom! with Bloodaxe, Simon Armitage has been appointed Poet Laureate for the United Kingdom, succeeding Carol Ann Duffy in what is now a ten-year post.
His debut Zoom! launched Armitage's meteoric rise to poetic stardom. It was a Poetry Book Society Choice – rare for a first collection – as well as being shortlisted for the Whitbread Poetry Award in 1989. But it was his appearance on BBC's flagship radio arts programme Kaleidoscope following the publication of Zoom! which first brought him to wider public attention.
Zoom! was followed by his second Bloodaxe title, Xanadu, in 1992 - a sequence exploring a Rochdale housing development written for a BBC 2 Words on Film TV feature – before he took his work to Faber. Zoom! is still in print with Bloodaxe, and there's also an e-book edition of Zoom! incorporating audio files for 18 of the poems using recordings Simon Armitage made for Peter Sansom in Huddersfield in 1989. So the voice you hear is that of Simon Armitage, then aged 26, when he was still working as a probation officer and had just published his first book of poems.
Until 2021 Simon Armitage will serve alongside Scotland's Makar, Jackie Kay, who was also given first publication by Bloodaxe. Wales' first National Poet Gwyneth Lewis, who served as the Welsh Laureate from 2005-2006, has published all her English-language poetry with Bloodaxe, from her 1995 debut Parables & Faxes through to her most recent collection Sparrow Tree (2011), winner of the Roland Mathias Poetry Award (Wales Book of the Year).
To order Zoom! – the original print edition or the e-book with audio – please click on this link.
Review comments from 1989:
'You couldn't mistake Simon Armitage for any other poet. He has found his voice early, and it really is his own voice – his language and rhythms drawn from the Pennine village where he lives: robust, no-nonsense and (above all) honest.' – Peter Sansom
'Astonishingly good for such a young writer… poems with an energy which comes directly from life now and the living language.' – Carol Ann Duffy, Guardian
'Armitage creates a muscular but elegant language of his own out of slangy, youthful, up-to-the-minute jargon and the vernacular of his native northern England. He combines this with an easily worn erudition, plenty of nous and the benefit of unblinkered experience...to produce poems of moving originality.' – Peter Reading, Sunday Times
Simon Armitage: Zoom!
Simon Armitage reads from his debut collection Zoom! 25 years after its first publication in 1989, and talks about the poems, written at a time when he was working as a young probation officer in Manchester. The poems included in this extract from a longer recording are: 'The Stuff', 'Snow Joke', 'On Miles Platting Station'. 'Ivory', 'Eighties, Nineties', 'It Ain't What You Do, It's What It Does to You', and 'Zoom!'. Pamela Robertson-Pearce filmed his reading and interview with Neil Astley at Sheffield University on 14 November 2014. This film is from the DVD-anthology In Person: World Poets, filmed & edited by Pamela Robertson-Pearce & Neil Astley (Bloodaxe Books, 2017). The poems from Zoom! are included in this video courtesy of the author and Bloodaxe Books.
Simon Armitage's 'Ten Pence Story'
A film of Simon Armitage reading his poem 'Ten Pence Story' – back when he was the new kid in British poetry. This poem is from his first collection Zoom! (1989), still in print from his first publisher Bloodaxe. Made in 1991 when Simon was just 28, this film is from the Wordworks series of short poem films made by Tyne Tees Television with Bloodaxe Books, first shown in May-June 1992, produced by Mark Lavender and directed by Rob Cowley.
[11 May 2019]