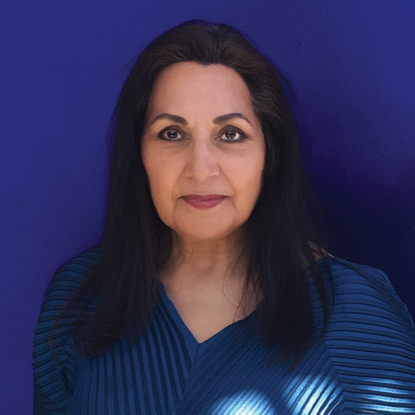 Imtiaz Dharker named new Chancellor of Newcastle University

Imtiaz Dharker, Chancellor of Newcastle University. Photograph by Ayesha Dharker
Poet, artist and film-maker Imtiaz Dharker will become Chancellor of Newcastle University on 1 January 2020. She was awarded the Queen's Gold Medal for Poetry in 2014 for her fifth collection Over the Moon, and for her services to poetry, and is a Fellow of the Royal Society of Literature. She has published six collections of poetry, most recently Luck is the Hook (2018). She is also an accomplished artist, and all her collections are illustrated with her drawings, which form an integral part of her books.

Imtiaz Dharker grew up a Muslim Calvinist in a Lahori household in Glasgow, was adopted by India and married into Wales. Themes of social justice run throughout her work, which is often concerned with major issues facing the world today, including freedom, displacement, conflict and gender.
Commenting on her appointment, Imtiaz said:

"In inviting me to be Chancellor, Newcastle University has reconfirmed that it places poetry at the heart of its great, pulsing activity, and this delights me more than I can say. It suggests a larger view of what education is for and about, especially in these strident times. This University has always combined the highest aspiration with the determined pursuit of social justice and opportunity for all, and a wider engagement with the community. I am proud to take on this role, especially when I think that this was the only University in the United Kingdom to give Dr Martin Luther King an honorary degree during his lifetime, and that he came and stood in this place to receive it. I was here last summer, and thought it would be a great place to be a student again. In a way I will be, because coming to it now I hope to learn from and be inspired by the people I meet, by the vitality of its academic staff and students. I thank them for their faith in me, and look forward with great pleasure to being Chancellor of this exceptional University."

Imtiaz is well-known at Newcastle University and has read her poetry at the Newcastle Centre for the Literary Arts and the Newcastle Poetry Festival. She was a contributor to, and performed in readings from The Mighty Stream (Bloodaxe Books, 2017), an anthology edited by Newcastle University's Jackie Kay and Carolyn Forché to mark the 50th anniversary of the honorary degree Newcastle University awarded to Dr Martin Luther King Jr.
Her poems are on the British GCSE and A Level English syllabus, and she reads with other poets Poetry Live! events all over the UK to more than 25,000 students a year, as well as headlining at literary festivals all over the world.
Dharker's internationally-regarded work is all published by Bloodaxe Books, a press which was founded by Neil Astley in 1978, working from offices on the Newcastle University campus. Both Neil and Bloodaxe's Chairman Simon Thirsk are alumni of Newcastle University, which awarded Neil a D.Litt in 1995 for his work with Bloodaxe Books. The University is today home to Bloodaxe's extensive archive.

An artist of note, Imtiaz has had more than 10 solo exhibitions of drawings in Delhi, Bangalore, London, New York and Hong Kong. As a documentary film-maker she scripts and directs films, many of them for non-government organisations in India, working in the area of shelter, education and health for women and children.

Newcastle University Vice-Chancellor and President, Professor Chris Day, said:
"We are thoroughly honoured Imtiaz Dharker has agreed to be the next Chancellor of Newcastle University. Imtiaz embodies the values of social justice we hold dear here at Newcastle. Her commitment to it is evident in her work in all its forms. As a world-renowned poet, artist and documentary maker she will be an exemplary advocate for the University. We are delighted to welcome her here."

Imtiaz will succeed Sir Liam Donaldson, the former Chief Medical Officer for England who held the post of Newcastle University Chancellor from 2009 until this year.
Imtiaz Dharker's drawings and poetry currently fill the spaces of Chester Storyhouse, where she is Artist in Residence for Chester Literature Festival. The installation will remain in place until November 2020. More on this here.
Imtiaz has appeared on television and radio as both presenter and interviewee. Links to some of these programmes are here.
[21 November 2019]