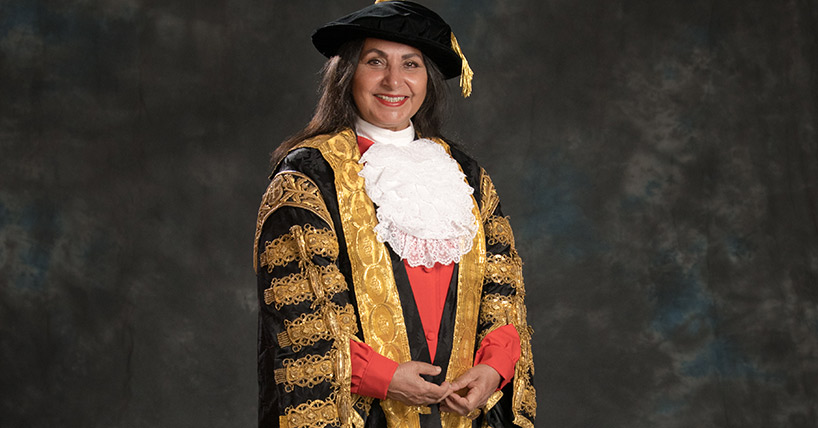 Imtiaz Dharker inaugurated as Chancellor of Newcastle University

Imtiaz Dharker, Chancellor of Newcastle University. Photograph: Chris Auld
Renowned poet, artist and film-maker Imtiaz Dharker was inaugurated as Chancellor of Newcastle University on 12 July 2022, more than two and a half years after she first took office on 1 January 2020.
Imtiaz was joined at the ceremony, in the University's historic King's Hall, by leading figures she chose to be awarded honorary degrees alongside her at the ceremony.

They were:
Former Poet Laureate Dame Carol Ann Duffy (Doctor of Literature)
Physicist and broadcaster Professor Jim Al-Khalili (Doctor of Science)
Rachel Dwyer, Professor Emerita of Indian Cultures and Cinema (Doctor of Literature)

Imtiaz said:
'It is such an honour to be invited into the heart of this great University, to serve as its Chancellor. I feel especially privileged when I think that this was the only University in the United Kingdom to give Dr Martin Luther King Jr an honorary degree during his lifetime. As it did then, Newcastle University has continued to hold itself to the highest standards. It combines great learning with focused aspiration, the determind pursuit of social justice and a wider engagement with the community.'
Her inauguration was followed by a celebratory dinner at Newcastle's Civic Centre at which the Chancellor's official portrait by Peter Edwards – to be hung in the King's Hall – was unveiled. Peter Edwards is renowned for his portraits of contemporary poets, many of which have been featured on book covers from Bloodaxe. The winners of the inaugural Chancellor's Poetry Competition, judged by Imtiaz Dharker with Moniza Alvi and Neil Astley, were also announced, with readings by the two equal winners Kitty Martin and Michael Brown.
Imtiaz Dharker was awarded the Queen's Gold Medal for Poetry, 2014 for her fifth collection Over the Moon, and for her services to poetry, and is a Fellow of the Royal Society of Literature. She has published six collections of poetry with Bloodaxe, most recently Luck is the Hook (2018). She is also an accomplished artist, and all her collections are illustrated with her drawings, which form an integral part of her books.

Imtiaz Dharker grew up a Muslim Calvinist in a Lahori household in Glasgow, was adopted by India and married into Wales. Themes of social justice run throughout her work, which is often concerned with major issues facing the world today, including freedom, displacement, conflict and gender.
Imtiaz is well-known at Newcastle University and has read her poetry at the Newcastle Centre for the Literary Arts and the Newcastle Poetry Festival. She was a contributor to, and performed in readings from The Mighty Stream (Bloodaxe Books, 2017), an anthology edited by Newcastle University's Jackie Kay and Carolyn Forché to mark the 50th anniversary of the honorary degree Newcastle University awarded to Dr Martin Luther King Jr.
Her poems are on the British GCSE and A Level English syllabus, and she reads with other poets GCSE Poetry Live! events all over the UK to more than 25,000 students a year, as well as headlining at literary festivals all over the world.
Dharker's internationally-regarded work is all published by Bloodaxe Books, a press which was founded by Neil Astley in 1978, working from offices on the Newcastle University campus. Neil Astley is an alumnus of Newcastle University, which awarded Neil a D.Litt in 1995 for his work with Bloodaxe Books. The University is now home to Bloodaxe's extensive archive.

An artist of note, Imtiaz has had more than 10 solo exhibitions of drawings in Delhi, Bangalore, London, New York and Hong Kong. As a documentary film-maker she scripts and directs films, many of them for non-government organisations in India, working in the area of shelter, education and health for women and children.

Newcastle University Vice-Chancellor and President, Professor Chris Day, said:
'Imtiaz embodies the values of social justice we hold dear here at Newcastle. Her commitment to it is evident in her work in all its forms. As a world-renowned poet, artist and documentary maker she will be an exemplary advocate for the University. We are delighted to welcome her here.'

Imtiaz Dharker succeeded Sir Liam Donaldson, the former Chief Medical Officer for England who held the post of Newcastle University Chancellor from 2009 until 2019. She is the first woman and first poet to hold the post.
A video of Imtiaz Dharker's Inauguration as Chancellor on 12 July 2022 can be seen below.
Imtiaz has appeared many times on television and radio as both presenter and interviewee. Links to some of these programmes are here.
[13 July 2022]